General Information
Community Action Partnership owns and manages Hillcrest Apartments in Genesee, Idaho. These affordable apartments are financed by the U.S Department of Agriculture's Rural Development program (USDA Rural Development). They are rent subsidized and residents pay approximately 30% of their adjusted income toward their rent. Each household's income is reviewed periodically and their rents are adjusted accordingly.
Hillcrest Apartments offers a total of eight apartments, seven of which have two bedrooms, and one unit has one bedroom. The complex also has a laundry room with coin-operated laundry units available.
The lease period for this complex is for one year. CAP pays water, sewer, and garbage. Tenants are responsible for their electricity bills.
Eligibility
Certain restrictions apply to tenant eligibility and tenancy. The eligibility factors are not the same as for other apartments offered by CAP. To effectively utilize space, occupancy guidelines generally require at least two people in two bedroom units. The maximum occupancy is two people per bedroom.
All eligible households must have adjusted incomes below 80% of the Latah County Median Income for their family size. Preference is given to very-low income applicants whose income is below 50% of the Median. Additional information regarding eligibility is available upon request. Median income tables change annually.
To request more information about our apartments please contact our Housing Manager at (800) 326-4843 or (208) 746-3351 ext. 4188 or submit an inquiry online via the button below.  After we receive your inquiry, we will create a rental application for you.
In accordance with Federal law and U.S. Department of Agriculture (USDA) policy, this institution is prohibited from discriminating on the basis of race, color, national origin, age, disability, religion, sex and familial status. (Not all prohibited bases apply to all programs.)
To file a complaint of discrimination, write USDA, Director, Office of Civil rights, 1400 Independence Avenue SW, Washington DC 20250-9410 or call 1-800-795-3272 (voice) or 202-720-6382 (TDD).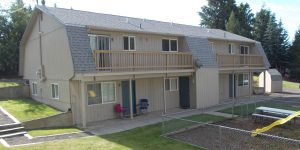 Hillcrest Apartments currently has one 2-bedroom apartment available for rent at 445 North Laurel Street in Genesee, Idaho.  Rent is subsidized and is approximately 30% of the household's adjusted monthly income. This institution is an equal opportunity provider.…